Norton Mobile Security and Antivirus
4.7.0.4456
Old acquaintances
Most of us have heard of the Norton Antivirus. If you haven't then either you are too young to surf the web unattended or have been using Linux since the nineties, in which case I'm sorry to inform you that mobile devices are beginning to become vulnerable to all sorts of nasty malware. It's not at as bad as with a Windows machine though, yet. Anyway, as probably anyone could have predicted, Norton made its way to the Android platform to ease away our fears.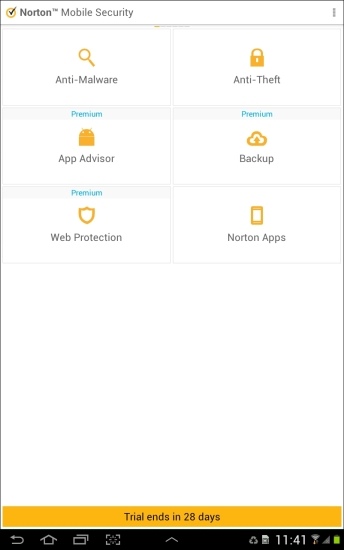 Norton Mobile Security is a nice looking app. The interface is organized into sliding screens with orange icons, buttons and other orange elements. So if you like orange, you'll love the interface. On the practical side we get an anti-malware scanner that can be scheduled to run automatically. Not only that but it also keeps an eye on what is getting installed from Google Play.
The anti-theft tools are pretty standard: Remote lock, remote wipe, and remote scream (it's less creepy than it seems). There is also a device location feature but it doesn't pinpoint that well. Finally, there's the option of taking photos remotely but apparently it doesn't work in every country due to some privacy protection laws. The irony is that this also applies in the UK.
Norton brings several impressive features beyond a malware scanner and anti-theft tools. But remember that impressive also means premium.
First off, the App Advisor is full of wisdom and experience concerning what apps are prone to misbehave while residing in your device. Norton displays a list of privacy and decency infringements that said apps usually do and then gives you the option of uninstalling them right away or if you prefer, include them on a "trusted" list.
Call blocking is another nice to have feature. Since N.M.S. can access your contact data, you can even select known contacts to be blocked. This feature is probably seldom used and Symantec thinks you should pay extra if you want it.
The second premium feature is called Web Protection. It's sort of a web guardian that blocks known malicious web sites from loading up. Might be useful but you need to be a fan of Chrome or the default Android browser to be able to benefit from Web Protection.
The contact backup is probably the best of the three. With it you can upload your contact list to the cloud whenever you have internet access. Performing a backup is good practice whenever you update your contact list so that you'll never fear losing those numbers. It can also be scheduled to run automatically.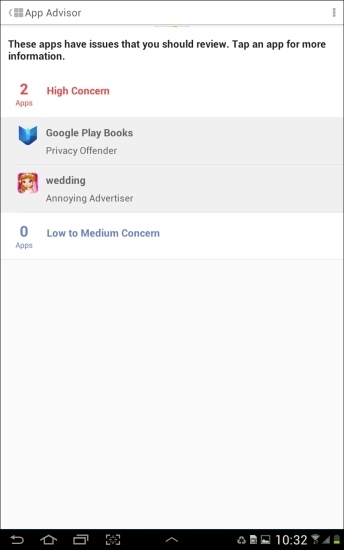 Features:
Anti-Malware – Effective, customizable, non-intrusip>
Anti-Theft – standard options, the device locator is not very accurate for some reasp>
Backup – Useful but only with Premip>
Web Protection – Blocks dangerous sites but it only works with Chrome or Android browsep>
Premium service is about $30 per year. Depending your needs you can opt to pay or just use the free version after a 30 day trial. I personally wouldn't bother with the paid subscription in order back up my phone contact list once in a while.
Pros:
Has a far reaching malware-scanner.
It does not strain the device.
The backup keeps your phone list safe.
Cons:
Half of the Premium features are circumstantial
Web Protection is limited to two browsers
Conclusion
I would keep Norton Mobile Security for the Anti-Malware feature alone. Simply because it works and doesn't use a lot of resources to stay vigilant.
---
Add a review
Tell us your experience with
Norton Mobile Security and Antivirus
4.7.0.4456
RELATED PROGRAMS
Our Recommendations
---
---
---
---